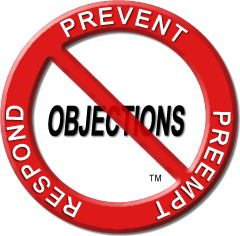 Interactive Web-Based Training
The knowledge, skills, and strategies taught in the book are now available in this website for those who prefer to learn online.
15 interactive courses:
Objection Preventing
Objection Responding
Profile and Qualify Prospects
Competitor Analysis
Research Prospects
Features, Advantages, and Benefits (FAB)
FAB/TEA Formula
Benefit Question
Block Competition Between Calls
Value Improvement Proposition
Trust & Rapport Building
Active Listening Skills
Defusing Anger
Telephone Cold Call
Voice Mail Strategies
Certified Sales Specialist designation: Successful completion (70% or better on the end-of-course tests) leads to "Sales Specialist" certificate awarded by Sales Training International.
See "Course Descriptions" for more information about each course.
Support Materials (included in the tuition)
Forms Pack Support Materials in MS Word:
Competitor Analysis Form
Objections Handling Form
USP FAB/TEA Research Question Guide
Customer Value Proposition & Presentation
Triplicate of Choice Closing Strategy
Balance Sheet Closing Strategy
Master Strategic Sales Plan – Step Based Closing Strategy
Telephone Cold Call Script Writing Guide
Voice Mail Strategies Guide
Sales Manager and Sales Coach Support Materials (PDF):
Priority Prospect Project (P3) Strategy Session Manual
P3 Two Page Instruction Guide
Coaching Guide
Brainstorming Guide
Consensus Building Guide
Flashcard Learning Contest Guide
Sales Manager's Guide
Company-wide Rollout Plan
Other Support Materials:
85 Most Common Sales Stopping Objections with Prevention and Response Strategies
39 Closing Strategies
15 Clues an Account is in Trouble
9 Ways to Reassure the Customer
Tuition is only $100.00 USD Per Participant

Membership fee provides 12 full months 24/7/365 unlimited access to all courses and resources in this site.
Select the "Buy Online" button for individual purchase.
Call 281-367-5599 to purchase for a group.
---