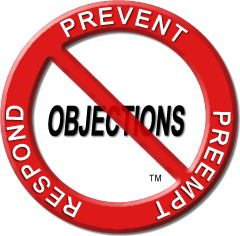 What they say . . . Objection Free Selling
Resellers - Trainers - Coaches
"I made my first prospecting calls with introducing the Objection Free Selling book and program. I met two CEO's with national sales force. The reaction was pretty impressive. Some doubts about the English language but I don't think those won't be deal breakers or conditions." Kim Koskinen (Reseller Finland).
End Users
"Thanks to you I had a good sales call yesterday. What I liked best is that I prepared such that the objections didn't arise because we thought through what the objections might be before walking in the door and had them handled in the initial presentation or were prepared with what was needed when concerns were raised."
Kent Nuttall
Results are immediate, observable, measurable, and sustainable.
Example 1 - Classroom: During a recent class a participant learned about the Multi-Bid Summary Form (Chapter 11) and used it that day during a break to recapture a $2.1 Million sale he'd previously lost due to "bid tricks" used by the competitor.
Example 2 - Coaching Sessions: After completing a Competitor Analysis (Chapter 2), the client discovered two hidden objections and how to neutralize them. Working with strategies straight out of the book, he (and his team) were able to finally win that $1.5 Million sale.
Book Reviews
Small Press Bookwatch - The Business Shelf: "Synopsis: 'Objection Free Selling: How to Prevent, Preempt, and Respond to Every Sales Objection You Get' is a unique and effective instruction guide and manual that contains the knowledge, skills, and strategies needed to prevent, preempt, and respond to every sales objection to a marketing pitch or campaign. It even has what is needed to know to answer the otherwise unanswerable objection.
"Examples are provided on how to prevent, preempt, and respond to each of the 85 most common sales stopping objections. Scan the list starting on page eight and make note of those that are similar to the ones you get. Look them up in the book and personalize the recommendations to your sales situation.
"Critique: Practical, insightful, effective, thought-provoking, informative, "Objection Free Selling: How to Prevent, Preempt, and Respond to Every Sales Objection You Get" is thoroughly 'user friendly' in tone, commentary, organization and presentation. While very highly recommended for professional, company, corporate, community, and academic library Business Management collections, it should be noted for personal reading lists that "Objection Free Selling" is also available in a Kindle format ($9.95)."
Amazon.com:
5.0 out of 5 stars
Get your confidence back!!

Wow, thank you for sharing your knowledge with us. I was stuck and could not help my sister sell at her store. I would shy away from customers because I did not know how to handle rejection and because I did not know how answer them properly when they refused the product. I was very nervous and thought about quiting since I could not sell anything. I was searching online when I came across this book. I srtarded reading it right away, and started to follow the advise. I started creating the flash cards and reviewing them until I did not need them anymore. I became more confident and I could feel my self more secure and I started selling yeah!! I felt so happy and greatfull that I did not let my sister down. I encourage everyone to read this book, you will gain confidence, and feel self in powered.
Josephine C.on 25 January 2017 - Published on Amazon.com
NetGalley.net: "Objection Free Selling was so informative that it can help with objections in all ways of life and it made this a very indispensable book! Learning how to get questions ready that anyone could ask isn't the simplest task and this book explains how to not only do that but how to overcome and assist others through their objections in a very clear and true manner. This makes sales jobs easier as it addresses the fears and concerns of buyers. This book wants to help both the seller and the buyer and it could make for a more peaceful salesman at the end of each work day and a more trusting buyer!" Trully Sunee
NetGalley.net: "I found this book to be extremely useful. The book is primarily aimed at business-to-business selling while most of my sales are retail -- I'm a photographer -- but most of the lessons still apply.

"Instead of jumping straight into objections and possible ways to address them, the author first walks you through knowing your industry, knowing your company, knowing your products and services, and knowing your competitors... and only then jumps into the common objections since successfully addressing objections requires knowledge in all of these areas.

"A very useful book for both pure salespeople and for people who sell as part of their jobs" Dan Cornford
NetGalley.net & Amazon.co.uk: " I've worked in sales and retail for over 20 years and I constantly like to push myself to achieve better results by reading books on selling.
"If you've been in sales for a while, you'll know that there are loads of different objections that you'll get on the path to making a sale.
"Should you give up at very the first objection you receive? Heck no! Most objections can be overcome even with very stubborn and reluctant customers.
"Objections are actually good because once you get them, you have a solid base to work from. Overcome an objection and you're one step closer to making that sale.
"Bob DeGroot has written something very unique here with his "Objection Free Selling" book. I've read lots of books on selling but have never yet encountered one which focuses on objections in such detail. You're lucky if you get a whole chapter on sales objections in other books.
"This book really does what it sets out to do which is to give you the knowledge to prevent, preempt and respond (even down to numerous actual examples of responses you need) in order to deal with every sales objection that you will get.
"There are 85 common sales objections in this book and they are organised and grouped into 10 different categories. Bob gives you all of his expertise in dealing with every single one efficiently so you can improve your sales technique enormously.
"It's a very detailed book and it will take time and effort to read through this carefully and employ the strategies successfully. If you're short on time, it makes sense to read the beginning and then hone down on the actual chapters which specifically relate to the most common objections that you normally encounter in your own sales career.
"Objection Free Selling" is admittedly not the most entertaining sales book I've ever read. Many are interesting but not necessarily all that useful. This book is absolutely packed with actionable strategies that you can employ right away with your own sales technique.
"This book is like the holy grail of dealing with sales objections. If sales are your business, you really need to get a copy of this book and study it.
Thank you to Netgalley, Bob DeGroot and Sales Training International for the opportunity to read this book."
Marie Johnstone, UK
---
© 2017 Sales Training International 1-281-367-5599